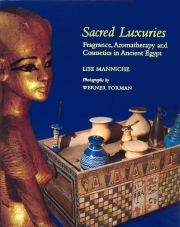 Sacred Luxuries. Fragrance, Aromatherapy & Cosmetics in Ancient Egypt

160 pp, numerous colour ills.
Opus Publishing Limited, London/Cornell University Press/American University in Cairo Press 1999
£

Order here
North America
Middle East
Rest of the world
The first complete study of Egyptian scent with exquisite photographs by W. Forman. Chapters include a presentation of the following:
Ingredients
Scent in the temple
Kyphi and tiryac
Recipes for luxury
Scent for love and rebirth
Fragrant remedies
The art of cosmetics
In spite of the fact that some words remain unintelligible, it is possible to recreate som of the fragrant substances. Even in ancient times if an ingredient was unavailable, another would take its place.
Scent and cosmetics are placed in their cultural context, and its significance in the funerary beliefs of the ancient Egyptians is demonstrated in the light of recent interpretations of symbols and metaphors in Egyptian art and literature.