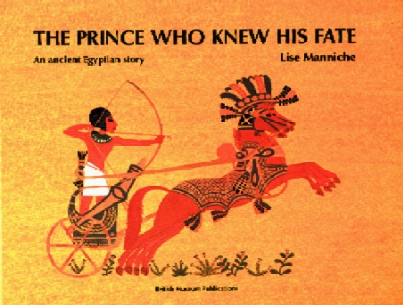 The prince who knew his fate
40 pp, ills.
British Museum Publications 1981
(out of print)

Danish edition:
Prinsen der kendte sin skæbne
Forum, Copenhagen 1981

Finnish edition:
Prinssi joka tiesi kohtalonsa
Gummerus 1981

Japanese edition:
Iwanami Shoten Publishers 1984

Slide edition with booklet and appendix (in Danish):
Forlaget IBIS, Copenhagen 1978
Order here
A tale translated from a papyrus scroll more than 3000 years old about a prince whose fate was decided at his birth by seven goddessess. In order to escape the boy's premature death the king shuts him up in a house of stone. But the prince implores his father to be allowed out, for he would not be able to escape his fate anyway. He travels incognito to a foreign country, where he wins the princess in a jumping competition. Together, they attempt to avert his fate.

The book is illustrated by the author. It contains an appendix on the inspiration for the drawings and background to the story, which may be an allegory on actual events in Egypt in the 14th century BC.